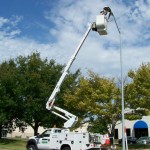 Business Description
Black & McDonald, a full-service electrical contractor in business for over 90 years, is the premier provider for full service street light solutions in North America. This includes streetlights, traffic signals and Intelligent Transportation systems. Spanning 14 years and over 500,000 streetlights and traffic signals, we provide comprehensive installation and maintenance services for numerous cities and utilities. Comprehensive utility services include construction and maintenance of electrical distribution facilities, substations, traffic management systems, industrial controls, outdoor lighting, storm restoration services and more. We maintain a 24/7 In House Call Center and immediate dispatch to respond when customers are faced with an emergency.
Business Description
The Tow Services Division is a 24-hour, 365-day operation located at 7750 E. Front Street. This section provides dispatch, towing, and storage services to the Kansas City, Missouri Police Department and other municipal agencies on an ongoing basis.