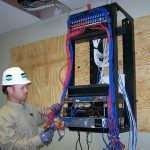 Business Description
Black & McDonald, a full-service electrical contractor in business for over 90 years, provides inside and outside electrical services for all aspects of electrical power and control systems. Facility Managers and business owners rely on our high level of expertise for ongoing maintenance, new installations, troubleshooting and emergency service. We maintain a 24/7 In House Call Center and immediate dispatch to respond when customers are faced with an emergency or shut down. Manufacturing, education, health care, food service and utilities are just a few of the industries where we have extensive expertise and experience.
Business Description
Commercial and Industrial Electrical Contractor, specializing in electrical service and repair.
Business Description
HailSolve provides a centralized solution for identifying, monitoring, and restoring hail damage that is often missed during a typical roofing inspection.  Since HailSolve has focused on hail for the last twelve years throughout the United States, our team is positioned to help throughout the restoration process.  If damage is identified and funds are received by the carrier, ownership pays their deductible and HailSolve is compensated from funds received by the carrier for restoring the damage.  Owners/Investors also incorporate HailSolve's expertise into their acquisition/disposition due diligence in order to negotiate more profitable transactions.