Monthly Membership Luncheons are generally held on the 3rd Tuesday monthly excluding July & August.
Our next luncheon will be held on Tuesday, September 17 at 12:00 p.m. at the MCC-Business & Technology Campus, conference annex room 104B (northeast corner of campus) at 1775 Universal Ave.  Our guest speaker will be Ruben Alonso presenting on opportunity zones.  Cost is $15.00 for members and guests.  Reservations made and not honored will be invoiced.   For more information contact Jennifer Steelman at JSteelman@ipr-mwt.com.


Map of BTC for Luncheon Location

Future Luncheon Dates
Tuesday, October 15:  Tour, Kansas City Fire Academy
Tuesday, November 19:  Drew Robinson, KCPL – Renewables
Tuesday, December 17:  Brandon Butler, Occutec – fuel systems for generators
Tuesday, January 21:  Matthew Killon, MO DOT – MO river bridge deck replacement
Have topic request or suggestions for monthly programs?  Drop us an email at sbrown@plattevalleybank.com.
NEIA & KCIC join forces for a night of networking at J.Rieger!
Save the date…Thursday, July 18th from 4:00pm-6:00pm.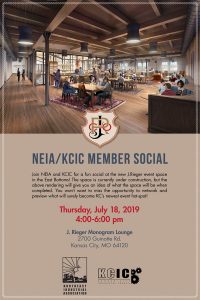 RSVP appreciated, but not required.
NEIA KCIC Member Social