Monthly Membership Luncheons are generally held on the 3rd Tuesday monthly.
The next NEIA Luncheon will be held on Tuesday, March 20  at 12:00 p.m. at the MCC-Business & Technology Campus at 1775 Universal Ave in the Conference Annex Room 104B on the northeast corner of the campus.  Our guest speaker will be Butch Rigby of Screenland Real Estate.  Cost is $15.00 for members and guests.  Reservations made and not honored will be invoiced.   For more information contact Jennifer Steelman at JSteelman@ipr-mwt.com.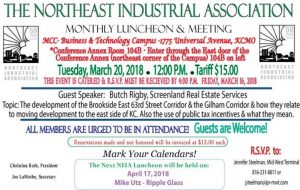 Map of BTC for Luncheon Location

Future Luncheon Dates
Tuesday, April 17, 2018 – Mike Utz, Ripple Glass
Tuesday, May 15 – John Debauche, Riverfront Industrial Area Plan
Tuesday, June 19
No meetings in July or August
Tuesday, September 18 – Blue Valley Wastewater Tour
Tuesday, October 16
Tuesday, November 20
Tuesday, December 18 – Mark Dinges, Pratt Industries
Have topic request or suggestions for monthly programs?  Drop us an at sbrown@plattevalleybank.com.